The 2016 Classic has been run & won by Kyle Dalymple in tough Mulwala conditions. A thunder storm, high winds, big waves & plenty of rain saw anglers ducking for cover on Friday with a majority of the field fishing the top end of the lake & river. Only 11 legal cod were caught on Friday & 41 undersize fish. Only one fish was caught over 64cm, and that was a cracker from Paul Healey at 116.2cm which took out the Largest Murray Cod category.
Competitors where greeted with slightly better conditions on Saturday but still tough windy conditions. As always a few anglers found the fish and a tight contest at the top was the result. Cameron Jones caught more cod, but Kyle caught better quality and won by 1.36kg from Cameron. Only 1.75kg separated 3rd (Derek Blow), 4th (Craig Leehane) & 5th (Russel Aston) who were only one quality fish away from the leading two.
124 Cod in total were caught for the event compared to last years 212 cod & 251 cod in 2014. Saturdays tally of 27 legal & 45 undersize fish where up by 20 cod from Friday, which was not unexpected given the conditions.
Peter Kromenko & Phillip Keetelaar won the Sunday Da$h for Ca$h earning them $1,000 & a Lowrance Elite 7 sounder. One fish caught second cast for the day was all it took to win, with only 6 legal fish being caught. Mick & Wayne Conners took second and Tim Baulch & Shane Melrose 3rd place, each earning themselves a Lowrance sounder & swag for their efforts.
Full Results
Champion Angler Category Largest Cod Category Most Cod Category Teams Category
2016 Results..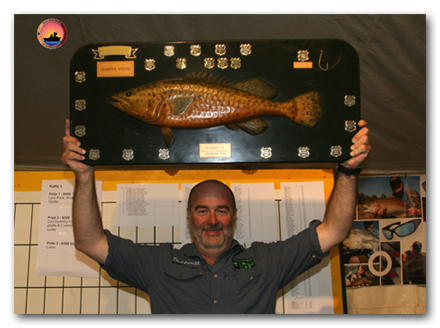 2015 Results.. Chris Burbidge consistently caught quality fish over the 2 days to take out the 2016 Mulwala Classic champion angler over a fast finishing Rick Doyle. Robert Vandelft and Warren Urquhart taking home the Da$h for Cas$h & Lowrance sounder.

2014 Results.. Michael Massier came home stronger than the rest of the field jumping from 4th to take victory from Stephen Deitrich with 24.13kg of murray cod. Roger Miles had another great year taking out the biggest cod on the first day with a 902mm, and winning the Da$h for Cas$h with partner Derek Blow.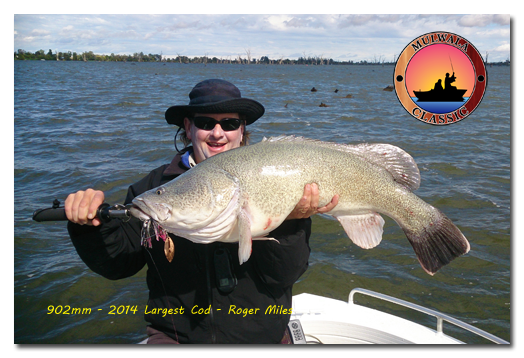 The 21st annual classic was held the weekend of the 23rd-24th March. Roger Miles took out 2013 classic champion angler with total of 24.8kg of murray cod caught over 2 days of competition. Runner up champion angler Cameron Jones caught 21.7kg of murray cod. Largest cod for the weekend was an impressive 91cm caught by Matthew McLean. More details..